With o

ur FREE

 VISA Check Card, commonly known as our debit card, there's little need to carry cash, write checks, or worry about paying credit card bills. Your monthly checking account statement will clearly list all transactions. If you need cash, use your debit card at many ATM locations nationwide (fees may apply). Daily transactions can be monitored through NetTeller Online Banking or Mobile Banking. You can use NetTeller and our mobile app to report your ATM/VISA Check Card lost or stolen, or re-order a card.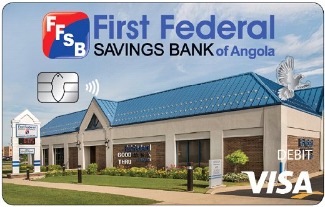 Contactless chip card coming in 2023!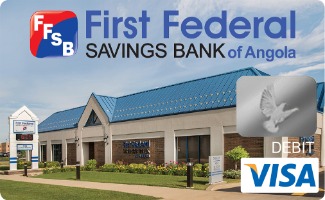 2022's new look out now!
VISA Purchase Alerts
We actively monitor your accounts and are continuously improving our technology to help reduce the risk of fraud. In addition, we want to help by offering simple ways for you to verify unusual activity. We have partnered with VISA to provide this FREE service to you. However, your wireless carrier may assess you fees for data or text messaging services. Please consult your wireless plan or provider for details. Help keep your account safe with text or e-mail alerts. By providing your mobile number or e-mail address, you can immediately be alerted to:
reaching a purchase amount threshold to identify

potential fraud by selecting a transaction limit for notification;



international purchases, if your card is used outside of the United States;

and/or 

purchases made on the Internet or over the phone.



Sign up for alerts by visiting the VISA Purchase Alerts site and completing the enrollment steps.
Enhanced Fraud Monitoring
Additionally, Enhanced Fraud Monitoring will notify you in the event a suspicious debit card transaction occurs on your account. You will be alerted via text message, phone call, or e-mail about potential fraud. Be advised this is a legitimate notification and follow the instructions in your notification. Please confirm with the bank your cell phone and e-mail address are current in order for Enhanced Fraud Monitoring to be effective. An example of a text alert, not specific to First Federal Savings Bank of Angola, includes: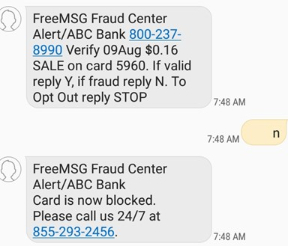 This is a FREE service to you. However, your wireless carrier may assess you fees for data or text messaging services. Please consult your wireless plan or provider for details.
VISA Account Updater
MasterCard and VISA have developed a way to share card information for merchants that hold card information on file for recurring payments. This program was developed to help reduce the number of declined transactions due to card expiration, lost or stolen cards, and other account changes. It will allow participating merchants to receive your updated card information automatically.

Some of the merchants that may utilize this updater service could be utilities, memberships, and subscriptions. Keep in mind that it is optional for merchants to participate and we do not have control or access to the merchants that participate in this service.

Merchants also determine how often they retrieve card information. If you have recurring payments set up with any merchant, you will want verify that your card information is current with them when you receive a new debit or credit card.

As a VISA issuer, we are required to participate, but you, as a cardholder, are able to opt-out of this automatic card service. Links for the Opt-Out Notice and Frequently Asked Questions are provided for your convenience.
If you have any questions, please don't hesitate to contact us at 260.665.7556.

Self-Service PIN
You may call 888.891.2435 to select or re-set your own personal identification number (PIN) using four (4) types of information: your full VISA Check Card number, the last four digits of your Social Security number, your zip code, and the security code on the back of your VISA Check Card.